SEM Trends You Need to Know in 2021
2021 will be a new year and hopefully a better year for all businesses, not just e-commerce companies! Search Engine Marketing (SEM) will continue still be on the top shelf for sales-related campaign efforts, but there are several technological and behavioural trends savvy advertisers need top be on top of to be effective and ahead of the game.
Here are some SEM strategies for 2021 that will give a head start to your SEM campaigns.
More SEM data will be restricted
The big change during 2020 (September) was the Google ads limitation of showing all search queries in the reports which have had profound effects on overall optimisation capabilities. This change has been widely considered as detrimental as the time Google removed most organic search queries from Google Analytics and moved them into not.set (remember that?). On a 30 day most recent period, advertisers now face 30% less queries to analyse and act on.
Privacy restrictions alongside the cookie tracking elimination process is on the way and it will most likely limit advertisers even more in 2021. When a door is closing, typically another one opens. So always be ready to be agile and you will be on top of the SEM trends for sure!

Google restricting search queries by at least 30% on a monthly basis
Prepare for a cookie less future
Of the SEM trends for the upcoming year this is probably the one most advertisers will ignore the most – at least while the 3rd party cookie party is still ongoing.Just like in 2020, Google will most likely announce more plans to restrict the use of third-party cookies in its Chrome internet browser by 2022. Third-party cookies are used in most audience powered campaigns (i.e. more than 50% of clicks for the savvy advertisers). This is a difficult situation. Advertisers and agencies need to work together to develop sustainable data strategies that maintain privacy compliance as well as finding new ways to reach key audiences.
One giant area of opportunity is the usage of first-party cookie data that can be customised much more in depth and provide hyper targeting across multiple channels.
Advertisers need to invest in being on top of server-side analytics to harness this development. Google also has news on the subject by launching the GA4 upgrade which constitutes their first stab at this problem. The GA4 solution uses AI to fill in the data gaps which we as marketers value above all. 
Audiences and more audiences
As queries become much less controllable, advertisers will turn to the places where they can make a difference. One major SEM trend next year will be how advertisers handle the amount of audience lists that comes out of this. As hybrid and hyper audience targeting are increasing, the impact of the traditional keyword targeting also gets increasingly smaller.
Being on a keyword does not entail just one intention but many depending on what audiences lists are partly triggering the ads.
5 years ago, audiences made up 10-15% of the affected traffic. Today by looking at audiences vs. total traffic (clicks), it's estimated that more than 50% of inbound traffic has non-keyword targeting connected for savvy advertisers.
Understanding the transition and identifying individual steps in the buying funnel and where your potential customer are at a given moment will be imperative to address in order to give users what they need at the right time.
Analysing audiences will impact:
Campaign structure
Ad creatives
Landing page design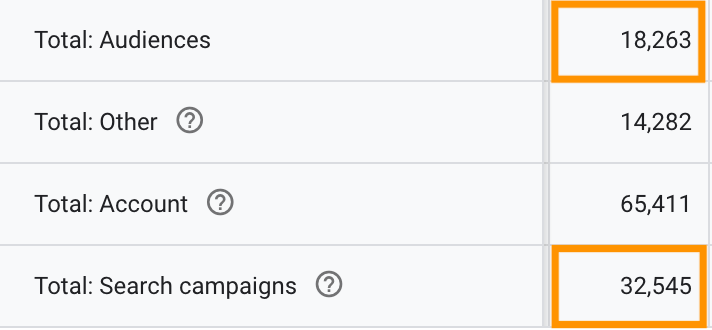 Audience impact on Google ads traffic
More automation – less control
Automation process and campaign features are only going to increase in the years to come. This is one of the major SEM trends that will inevitably be a talking point the years to come and how to harness it all. With Smart Shopping being one of the biggest game changers for the unsavvy mid market segment, more sophisticated advertisers are struggling with the decreasing control levers available.
Automation has widely positive effects on operational efficiency and can also affect ROAS and ROI considerably, so automation is certainly here to stay. For those advertisers that opt into any of the automation features, efforts will be put into feeding the machine with the best data available. For Smart Shopping, feed management is very much required as search query report is not available for this feature at all.
By automating sales campaigns activities such as Google Shopping, advertisers can move back to focusing on more branding and brand affinity related tasks in the higher up funnel space.
Want to know more about the advantages and disadvantages of Google Shopping? Read more below.
Video advertising
In 2020, the video advertising segment is projected to reach US$27.7M and will be growing by 5.5 annually for the years to come. Especially YouTube being a part of the Google Display Network will see these growth numbers materialise. As with Facebook, it is not unlikely that organic reach on YouTube will eventually drop and pave the way for paid video to be the main source of traffic.
Under COVID-19 as brick-n-mortar shops/brands are moving online to secure revenue, advertisers have gotten increasingly more savvy and adding video content to their social and web platforms. E-commerce companies are incorporating fashion runway live streams and product launches online as a necessity initially, but have seen tremendous growth despite lack of experience and professionalism in this space.
Video advertising is now not only for the advertisers with deep pockets. With the rise of video creation platforms such as Promo.com and the like, the large SMB segment of advertisers are now adding tons of video material to compete with the still today vast amount of image ads that are circulating in the display ad auction at Google.
Video SEO will also still be extremely important in the future, so make sure video titles and descriptions include all the relevant keywords for SEO.
Video below is created with Promo.com's available clips and captions in only 1 work day costing a fraction of conventional ad production. 
Taking full advantage of mobile
Really? Do we really have to talk about mobile experience end of 2020?
Yes we do!
Many brands are still struggling with a decent mobile experience by not focusing on multiple devices and often times simply only streamlining efforts towards the iPhone.
But it's not only design and user experience. A lot of the previously mentioned audience targeting is also highly relevant for mobile users who are often on the go and not in buy-mode. So knitting campaigns together tightly to secure user engagement and tie it together with the right type of landing page experience will bring mobile performance up in 2021 – provided efforts are put into mobile marketing campaigns and design.
This analysis will once again have impact on
Campaign structure
Ad creatives
Landing page design
and will again transform your Google ads account accordingly. 
Google is certainly providing a good chunk of mobile specific ad text extensions that are either working well already or being beta tested at the moment. Latest shot in 2020 was the lead form extension which proved to be a big hit. Google will undoubtedly roll out a lot more features in 2021 that will work well on mobile.
The big take away
In a nutshell, most of the SEM trends for 2021 are guided by increasing usage of Artificial Intelligence and Automations. At the same time advertisers will continue to see restrictions on the conventional third party cookie marketing game.
As an advertiser, it takes a bit of effort to keep up. But it takes an agile and flexible mindset to win digital marketing and it's only going to get wilder. 
Happy hunting in 2021!
Feed-back or questions for us? 
Let us hear from you!