Amazon Marketing
If you use Amazon marketing ads to increase your reach, we can help make Page 1 visibility possible
without breaking the bank.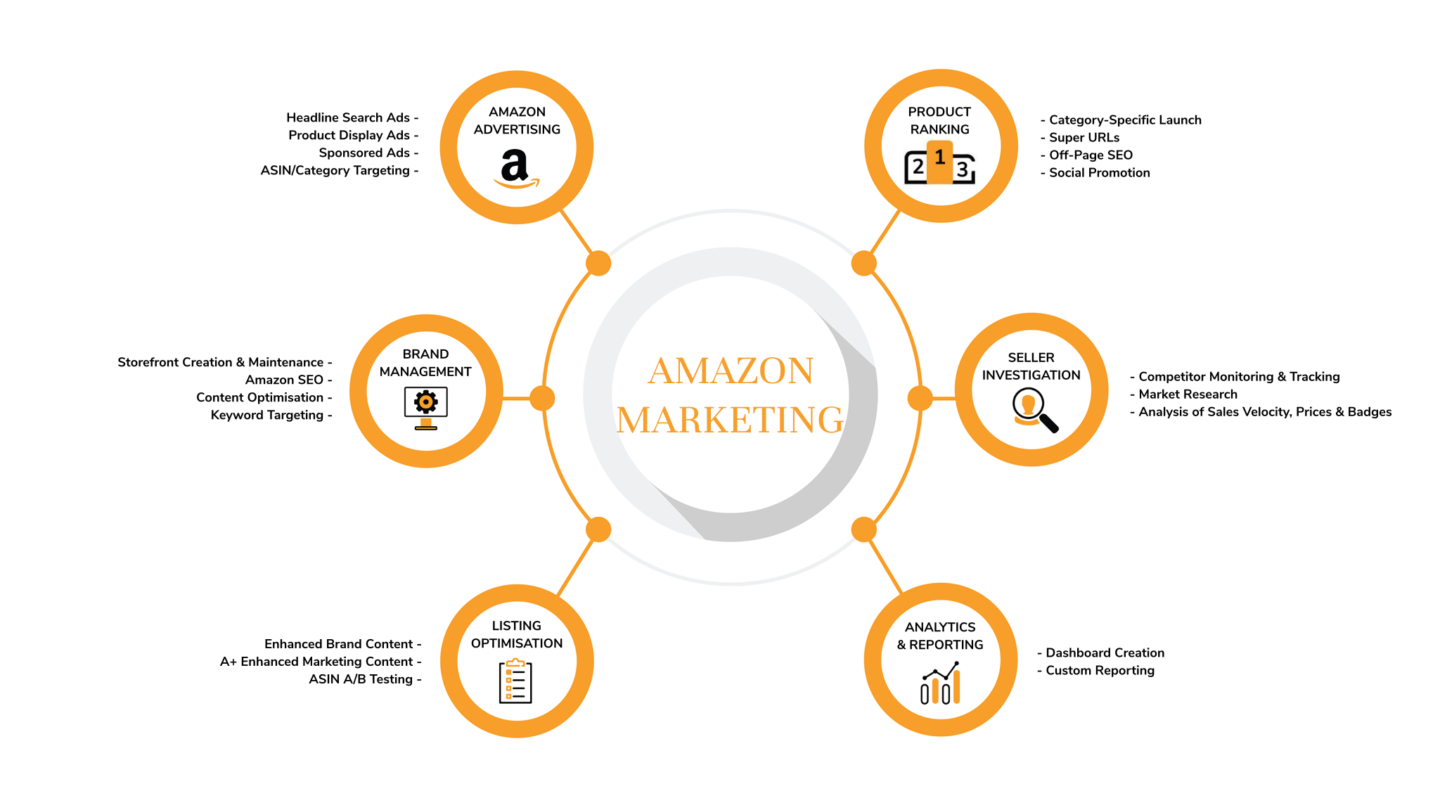 Amazon Advertising
Employ Amazon's self-service options to drive more potential buyers to your listings and increase your overall marketplace presence. Maximum sales and revenue, reduced ACoS, every ad dollar optimised. 
Headline search ads

. Create ad content around the most targeted keywords, to promote your products, increasing brand awareness, without spending too much on PPC campaigns.

Product display ads

. Get the most out of your PPC budget. Pick the ads that will perform best, to make every click count.

Sponsored ads

. Drive more traffic to your listings, and increase your share of market through splashy advertising.

ASIN/Category targeting

. Target your ads according to a specific category and corresponding subcategories, for maximum exposure.
Amazon Brand Management
To achieve sustainable revenue, think beyond making once-off transactions. Elevate your brand on Amazon, to convert new leads faster into sales.
Storefront creation and maintenance

. Develop a seamless in-store experience, from your physical store to your website to your very own Amazon shop.

Amazon SEO

. Optimising your listing is our top priority from Day 1. Push out content that is targeted around specific keywords, but still informative and persuasive.

Content optimisation

. Expand your reach to the largest possible audience on Amazon. We take care of all your content needs, from your backend keywords to your on-page content.

Keyword targeting

. To win on Amazon, select the right keywords. It's the first step towards appearing on top of search results.
Amazon Product Ranking
Amazon ranking directly impacts your sales and even your Google results. 2x your search visibility, 4x your profitability
Category-specific launch planning

. Get established as a leader in specific categories, with the right spending and approach.

Super URLs

. Find out they keywords your best customers use to find products like yours, and use this knowledge to boost your ranking.

Off-page SEO

. Use optimised content to make sure your Amazon listings appear on top of Google results.

Social promotion

. Leverage your social presence to signal that your brand is trustworthy and your products reliable.
Amazon Listing Optimisation
Organic search matters. And it's all about accurate keyword placement, if you want your products to move to the top of search results.
Enhanced brand content

. Change your product description, to remain competitive with other sellers.

A+ enhanced marketing content

. If you're a manufacturer or distributor, content is key to your success as a Vendor Central merchant.

ASIN A/B testing

. Tweak and improve on your conversion strategies, to transform ´very lead into a sale.
Amazon Seller Investigation
If you're losing leads, you're losing sales. Find out which sellers and listings are driving customers away from your business.
Competitor monitoring and tracking

. Know your competitor's every move – the keywords they use, their ranking, their best-performing content, and so on.

Market research

. Get access to customer data – past, present and potential. And then, gather even more information for deeper insights.

Analysis of sales velocity, prices, and badges

. Learn how to move your deals faster through your pipeline – fantastic learning for your sales team, too.
Amazon Analytics and Reporting
All campaigns on a single dashboard. This is data-driven marketing for true profitability. We exist to drive your performance.
Dashboard creation

.

Track, evaluate, and share your key performance indicators and metrics with the rest of your team. A single view for more insightful decision-making.

Custom reporting

.

Know how every keyword, bid, campaign, and budget is delivering on your business objectives

.
Are you getting the most out of your setup or are you thinking about selling on Amazon?
Get in touch!