Email marketing has throughout the years gotten a reputation of being increasingly spammy with a heavy focus on sales-related content and there's a reason for that. Most SME companies see email marketing as a place to get incremental sales going at a very reasonable ROI. 
When you also take into account that the number of global email users amounted to 3.9 billion in 2019 and is estimated to grow to 4.48 billion in 2024, then there's a reason for the increasing amount of content in your inbox. You would think that this is having a negative impact on email user engagement, but in fact, email engagement seems to be increasing at the same time. 
So with a growing number of users, a channel that gives sales at ridiculously high ROI, and with increased engagement levels, email marketing is not dead in the water by far. In fact, there are only reasons to invest further into getting the most out of your email marketing campaigns.
How to get more out of your email marketing campaigns – most important aspects!
Not all advertisers out there are taking advantage of the larger pool of users and getting more sales and engagement out of their subscriber base. Still today, a lot of advertisers are still sending out one-size-fits-all bursts with little consideration for who the subscribers are and what the individual segments are actually interested in. 
Those marketers who see the increase in sales and engagement are the ones taking advantage of the sophisticated measures and approaches that are available today.
We have compiled the most important aspects of email marketing that any e-marketer should ideally be on top of.
1. Subject lines
You don't have a lot of options to catch the reader, so understanding how to create really good subject lines is critical for opening rates. Hubspot created a bundle of subject lines here for inspiration but for any marketer, it's critical to understand the persuasion and influence methods used and what's particular for various industry segments. If you don't know where to start, it's not a bad idea to look at Robert Cialdini's principles of influence (reciprocity, scarcity, authority, commitment and consistency, liking, and consensus) and then apply them to the subject lines. In addition, there are already loads of insights regarding subject lines for specific purposes such as e.g. follow-up emails, no-response emails, etc. 
Hubspot has compiled a list of the best email subject lines for inspiration (only).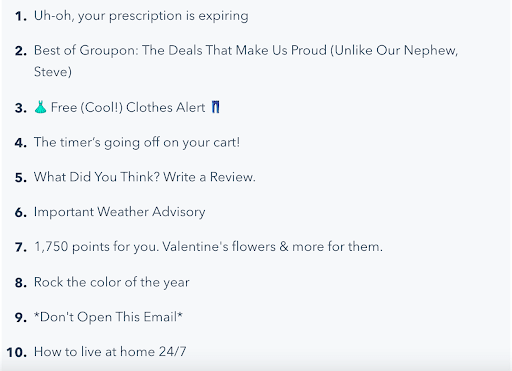 If you are sitting on a larger database of email lists with marketing permissions, it's certainly recommended to A/B test subject lines every time you send out material. Learning about what's ticking your audience is key to get high opening rates from your email outreach campaigns. 
2. Segmentation
It's still not uncommon for companies today to have a newsletter-style email marketing strategy where all subscribers are hit with the exact same content. Smaller companies with smaller lists might see operationally higher costs than benefits from segmenting your email marketing database, but the rest of the companies out there will benefit massively from filtering and dividing lists into specific behavioral segments and targeting those with tailor-made communications.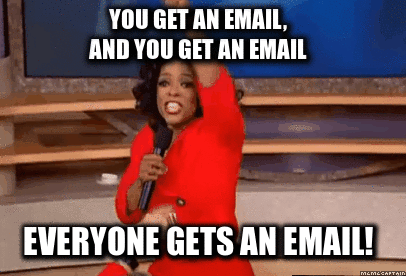 Very often demo-geographic targeting is a good place to start out, but the more behavioral aspects you can get into your segments, the better they perform. The go-to lists for beginners are usually related to previous sales segments (past purchases, amount purchased) and if that is not available then targeting users who have previously opened emails or otherwise engaged on the website are popular segments to target.
For e-commerce companies, getting abandoned cart users back on track is a must-have email marketing campaign as well as frequent buyers and first-time users that didn't come back for the second round. 

3. Personalization
Long gone are the days where adding a recipient's first name in the starting paragraph was a top-notch personalization experience. Today, we are able to connect user website behavior and engagement to email marketing campaigns. That basically means that we are able to target users with the type of content they want to see, or are more likely to engage with. New users are often less likely to buy straight away and prefer to peruse categories and products before committing to a purchase. Sending email marketed content on new product lines and asking for product reviews and/or additional information about preferences are much more likely to be successful.
So the more website behavior can be attributed to the individual, the individual user can then via lead scoring abilities be tiered and measured in various ways to streamline the right content campaign for the right user. This approach has proved to be much more effective than salesy one-segment pushes that are still prevalent in modern-day email marketing usage.  
Hubspot flywheel depicting a move away from the traditional sales funnel over to flywheel communication with the right messaging and content for the right user.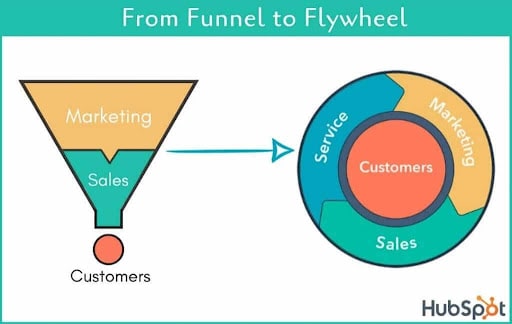 4. Device optimization
Just like with website product and design, it's imperative that your email marketing campaigns present themselves optimal across all device formats. Responsive email designs are typically the way to go, but you still need to double-check and make sure you suddenly don't show properly on all iPhones for example. Optimizing for phone formats first is key as well as phone device functionality – button clicks optimized for thumbs not mouse etc.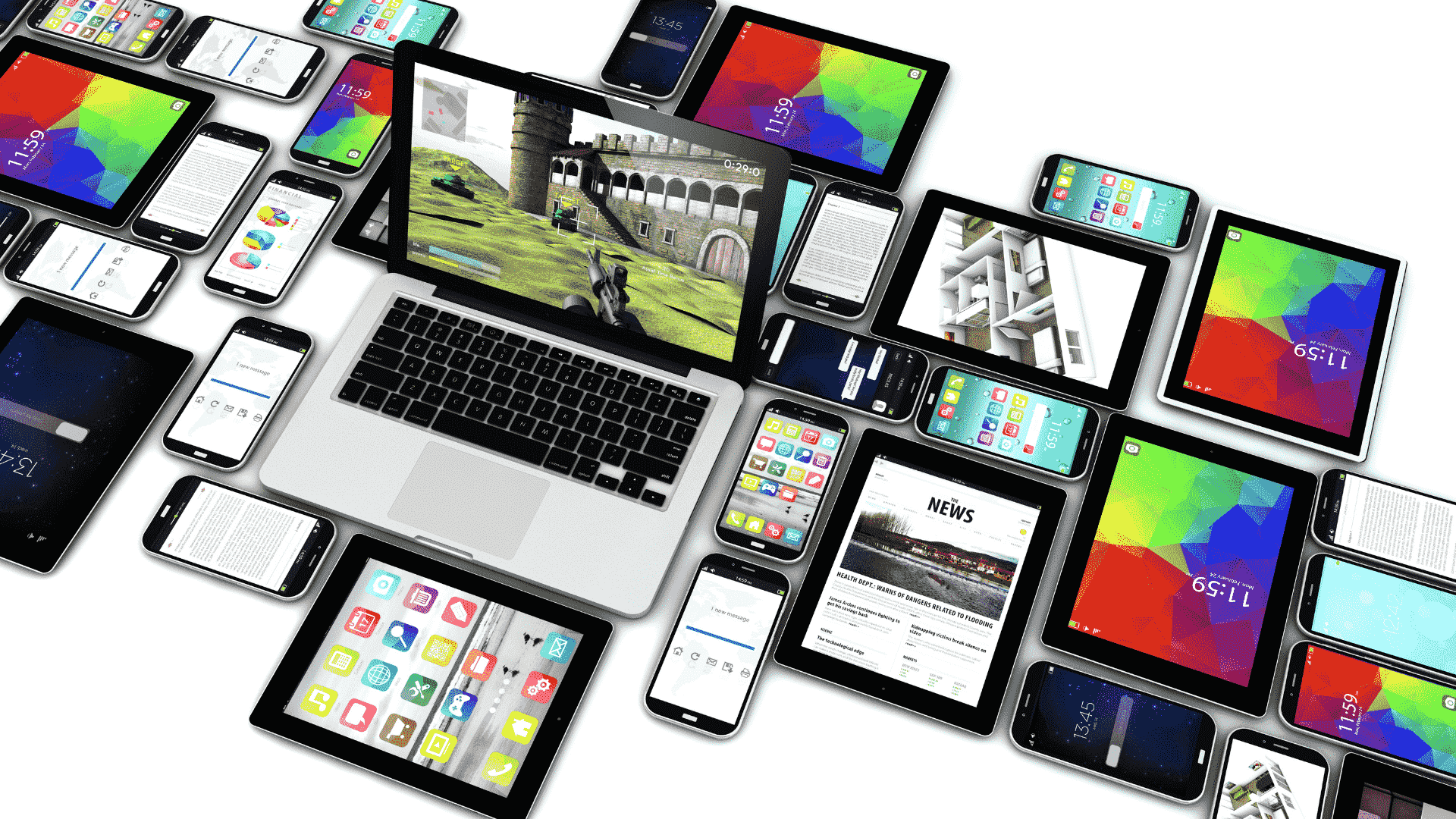 5. Visuals and copy check
A picture says more than a thousand words – numbers say it's true! You should have more imagery than you think. It actually makes sense if you think about how little time we spend today scanning newsletters and email marketing content. If you like the picture, we start to read (and titles only) – not the other way around.
Whatever text needs to be to the point with few value propositions and almost instantly to call-to-action mode. It's not a bad idea if you have a very thorough article that you want people to read not to add the actual article to the newsletter but to let the audience know that there is a quality in-depth article one click away.
By doing it this way, the audience is not overwhelmed by the article and text-heavy composition and you have a bigger chance of 
1) getting people over to your website so you can target them better in the future and 
2) increasing the engagement with the content that might, in turn, result in lead generation or purchases.
6. Timing and Frequency
Understanding how not to piss off your audience by not over-spamming and hitting them at the exact time they are ready to listen is pretty darn important for email marketing in particular. There are standard answers to when to send a message like during commuting hours, lunch breaks, and leisure time hours. But the key is to look at the historic stats from your campaign and make informed decisions. As to the frequency question and how not to carpet bomb your audience, there are also some standard principles that can be applied such as max twice per week but in most cases, the effectiveness is much higher with fewer emails and better content. So analyzing periods of performance vs other periods will be clever to set up. 
Finding that balance is important and while there are go-to answers that will bring you most of the way, there's probably still double-digit growth potential in getting this completely right for your business and audience. 
What are the best platforms for driving your email marketing strategy? 
One thing we are not short of in this world, that is software for mass shooting emails. There are literally 100s of options so today, we are looking at the top popular options and why people are choosing them. 
Mailchimp – the free go-to email platform turned full marketing hub
The company has for a long time been a dominant player in the email marketing space. Mailchimp offers a free plan incl. CRM where you can emails to up to 2000 subscribers which is great for SMBs looking to keep cost down and doing marketing at the same time. Mailchimp is also great at integrating to other platforms such as Zapier and WordPress. The platform is constantly evolving and comes with the typical automation and personalization features. 
The drawback mentioned in reviews relates to the interface not being the most intuitive and once you hit the 2000 subscribers, the price goes up steeply and, hence, opening up for better options the for the savvy email marketing users.
Klaviyo – for e-commerce businesses
With the rise of Shopify for e-commerce and Klaviyo as a Shopify Plus Technology Partner, the email marketing platform can hardly be called a startup anymore with thousands of clients worldwide. With a user-friendly interface, it's simple to set up personalized newsletters as well as automating email flows towards abandoned cart users, order follow-ups, and the like. It has plenty of native integrations with CRM systems and customer data sources that can amplify marketing campaigns. 
Klaviyo charges based on the size of email contacts. It's considered a bit more expensive than other similar platforms but has solid reviews from their customer base.
Klaviyo Overall Dashboard interface where you can see the impact of marketing automation campaigns and campaign flows.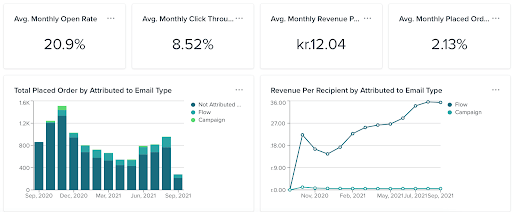 Hubspot Marketing Hub – the agile platform for big and small companies
With more than 100.000 customers, Hubspot as a platform covering, CRM, marketing automation, service hub, operations and CMS delivers services for many purposes now. It is undoubtedly the CRM and marketing automation that is the bread and butter for the company and it's widely recognized as a quality partner when structuring and delivering email marketing campaigns in particular.
Hubspot has all critical features for running a successful email marketing campaign: Email and landing page templates for all objectives, create workflows and lists directly connected to CRM behavioral data, and a user friendly interface. 
Connecting vast CRM data to personalised and segmented email marketing campaigns is the backbone of Hubspot.
Contact data that can be weaponised…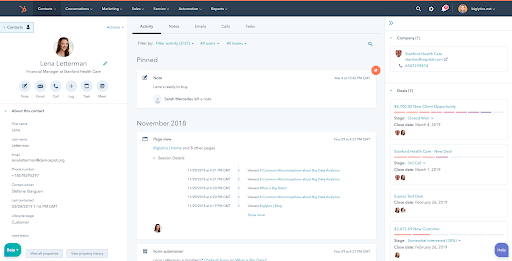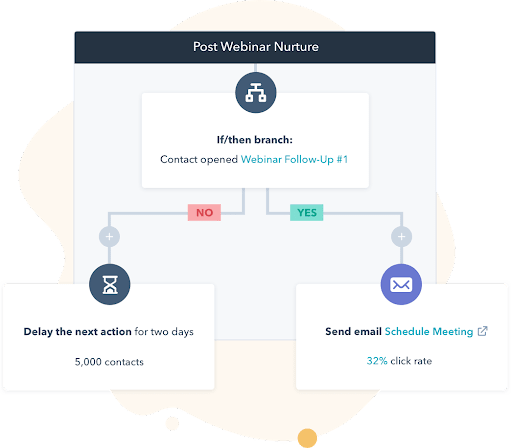 Hubspot is scoring high satisfaction among its user base. Pricing wise given the amount of features and seamless integration with other Hubspot products, the email marketing product can be argued to be fairly cheap also comparing to big platforms such as Salesforce. If you don't need all the added value from marketing automation and behavioral segmentation, there are single-product providers out there with a better deal for the smallest SMB segments. But today, most companies needs to align their marketing from several angles. That's where Hubspot has a strong value proposition. 
Salesforce (Pardot) – for large businesses and existing salesforce users 
Salesforce is a Juggernaut within digital marketing and sales solutions and with the acquisition of Pardot as a part of the growing Salesforce Marketing Cloud, the company is catering even more so to larger companies who are looking for the ultimate one-platform martech solution. If you look solely at the email marketing features available on Pardot, they are quite similar to what other providers deliver but at a significantly higher cost. The advantage of Pardot lies in buying into the whole Salesforce ecosystem. If your business is already a heavy user of Salesforce products there are distinct module integration advantages and the price point becomes more agreeable. Have a closer look at Pardot reviews here.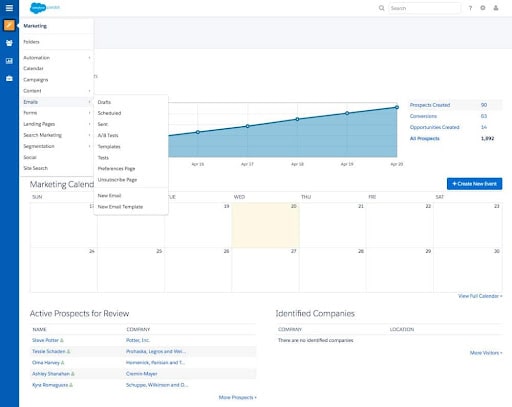 Get more out of your email campaigns today
Email marketing is not dead, on the contrary! With better and more targeted email lists, personalised content and smarter non-salesy material for the right time, email marketing is flourishing and growing. You can also piggy bag on this development, but it's recommended to get on top of these above mentioned principles and pick a solid email marketing platform that works for your business.   
We are helping companies get more out of email marketing no matter what platform they use. If you are sitting on an important question, feel free to reach out and we will be happy to help.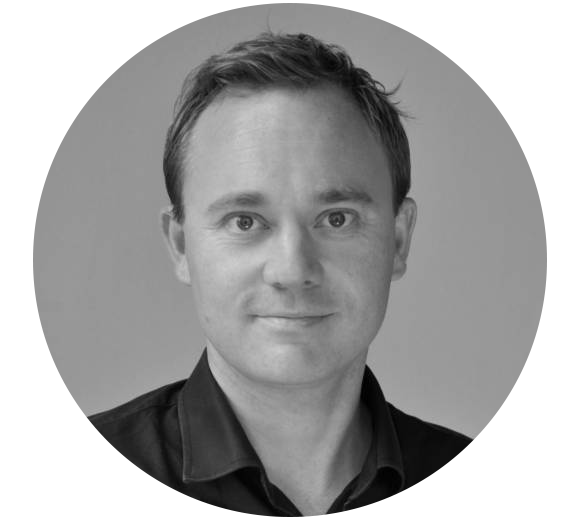 Peter Crone
Digital Marketing Expert and Founder of Digital Excellence


Got any questions?
Write directly to us via the form below
.