Responsive Search Ads are replacing Expanded Text Ads in 2022, Google recently announced. This shouldn't catch you by surprise. After all, that's what Google does occasionally. That being said, now is the right time to evaluate your results and analyze your RSA to better understand what's working for your business. 
However, if you don't have any significant statistics on your account, don't despair, because we decided to put together an ultimate guide for RSA. Among other things, in this article you will be able to read more about:
Google Search ads placements and how they grew over time

The numbers behind ETA (expanded text ads) and RSA (responsive search ads)

Responsive Search Ads Best Practices

The best approach for switching to Responsive Search Ads on an account level

What to expect in 2022
---
Google Search Ads and how they grew over time
---
If you've been following Google Ads updates over the past few years, you probably remember the
Standard Google Text Ad
format. It looked nothing like today's ads as it had the following components: 
1 Headline [25 characters]

2 Description [35 characters]

Final URL
The side effect is that you would need to have your message compacted in the total of 95 characters.
However, in May 2016, Google announced an innovation for the mobile-first world. What that meant was that a new ad format became available and we learned it came to replace STA. It was an Expanded Text Ad (ETA), and starting from the 31st Jan 2017 you were no longer able to create and edit Standard Text Ads.

The reason for an upgrade became more than obvious as you could now stretch your message in 140 characters:
2 Headlines [30 characters each]

Description [90 characters]

Final URL
Expanded Text Ads
Next, in August 2018, aiming to deliver more relevance with ETA, Google announced yet another update and expanded ETA to what it looks like today.
3 Headlines [30 characters each]

2 Descriptions [90 characters each]

Final URL
As you get 200% more space compared to the original STA, it was a no-brainer to utilise headline 3 and create at least 3 Expanded Text Ads to offer some variety to your customers. 
Knowing that Google constantly gives more space for higher ad click potential, advertisers need to keep up here in order not to lose competitive advantage in the market. 
….And now it's time for Responsive Search Ads!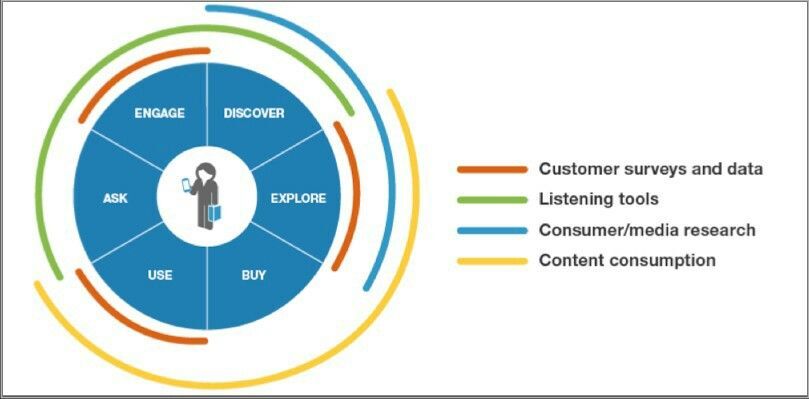 Consequently, in 2018 the new ad type debuted and in February 2021, Google announced a new ad type would become the default ad format:
Responsive Search Ads
. It may not seem like a huge improvement, as they consist of:
15 Headlines [30 characters]

4 Descriptions [90 characters]

Final URL
But the greatest benefit of RSA is that it incorporates machine learning in the ad rotation, creating 43,680 different variations of a single ad.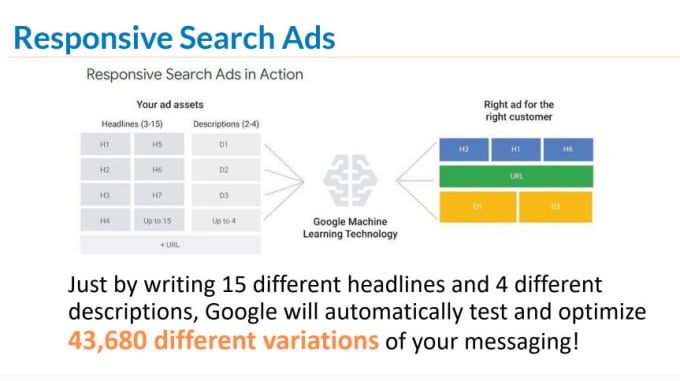 As much as this may sound appealing, you shouldn't be embracing this format just for the ad variations – it's about performance in the end. That being said, as a true marketer, you can dive into the numbers to understand the performance and set your expectations. And that's precisely our next focus.
Now, you may wonder what the performance difference between ETA and RSA is.
---
The Numbers behind Expanded Text Ads and Responsive Search Ads
---
Using machine learning, responsive search ads automatically identify the best combination of headlines and descriptions to deliver the right ad to the right person. In fact, we've seen advertisers who add responsive search ads in their ad groups achieve up to 10% more clicks and conversions.
Grow clicks and conversions by using responsive search ads
For this reason, we dived deep into accounts we are managing to better understand the trends and set our expectations. Only ad groups with at least 3 ETAs and 1 RSA running from July 2021 to September 2021 were included in the analysis. After merging the results, we learned the following:
The number of impressions and clicks on RSA is 60% higher (each) than the most served and clicked ETA

RSA CTR remains at the same level as the best ETA CTR

Avg CPC in RSA is 5% lower than the lowest ETA Avg CPC

Ad Spend in RSA is 55% of all ads in the ad group

RSA Conversions make 57% of the entire ad groups conversions

ROAS for RSA is slightly higher than the ad group average

RSA Conversion Value is most of the time 56.5% of the ad group total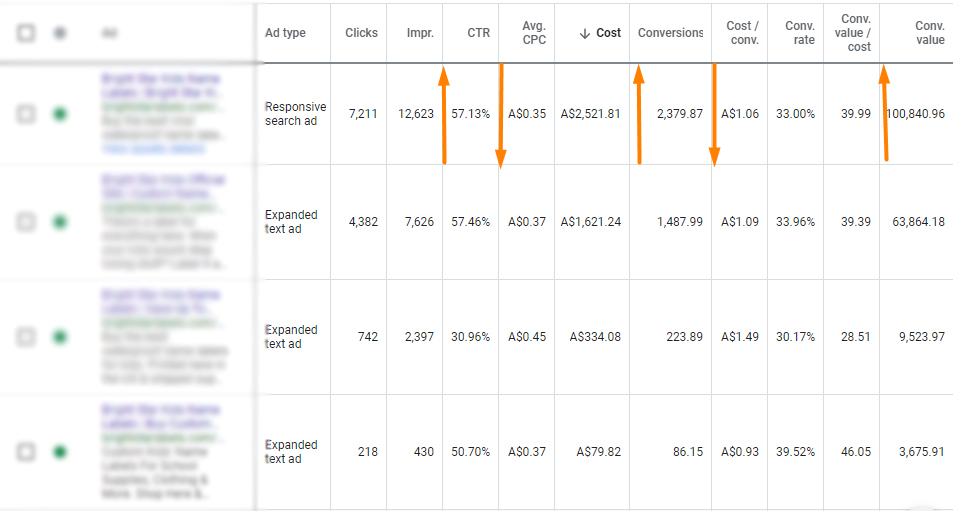 After taking into account all aspects of above-mentioned ad types, we can only conclude that RSA will not instantly give you a crazy high ROAS, or CTR. However, it is evident that this ad type will secure you much more visibility at a lower Avg CPC. Google's machine learning algorithm seems to be evolving into something extremely beneficial to the end consumer and we strongly believe this is something you, or your clients, need to realise before the competition. 
---
Responsive Search Ads Best Practices
---
If you still haven't started testing RSA on your campaigns, now is the perfect time to do so. Meaning, there's plenty of time to figure out your best strategies and make sure it works before you are forced to transition to an unfamiliar ad type.
That's why we put together some best practices that should ease your efforts. 
Create as many different Headlines as possible

Google recommends having 1 RSA per ad group, and there is a limit of 3 so you don't spread your data too thin

Include CTAs, Benefits, Ad group Keywords, and Best Features in your Headlines and make sure not to include Ad group Keywords in at least 3 Headlines

Make sure to use Pins wisely, moreover if you run SKAG ad groups

Experiment with different Headline/Description length. Sometimes, short ads stand out from the crowd. 

Don't settle for anything less than Good Ad Strength

Note that Headline 3 and Description 2 may not always show, so use any important piece of information on top placements

Regularly check your Recommendations tab for any custom suggestions that can help you improve your RSA

Replace your lowest performing Headlines and Descriptions regularly by using the Asset Report

Don't neglect any ad customizers you may have used before (Keyword Insertion, Countdown or IF functions)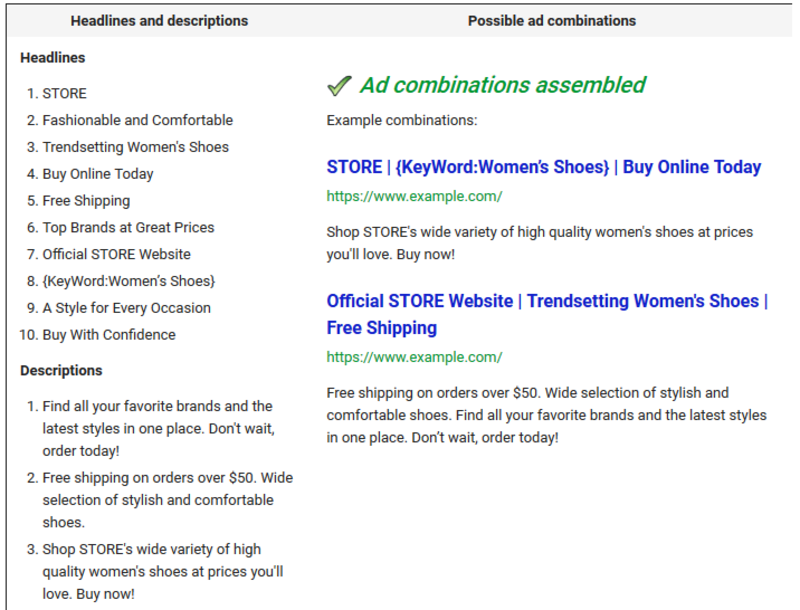 ---
The Best Approach for Switching to Responsive Search Ads on an Account Level
---
If you already know how to run RSA, it's time you start considering expanding them on an account level. You may wonder why now is the best time when you still have 8 months to do that. 
But Black Friday, Cyber Week, and Christmas are all approaching fast. For most businesses this means more traffic and higher CR. But, if you want to have your RSA strategy prepared before then, you need to get started now. Not only will you get more visibility at a more affordable rate, but you will also help Google's machine learning pick up all signals and behaviours in a timely manner. 
Use Google Editor to make your Responsive Search ads at scale
We often love making bulk changes, and Google Ads Editor is the perfect tool for the job. You could easily export your well performing ETAs, combine and expand them to create your RSA. 
Use Labeling
Labeling can also help filter out Ad Groups you already have covered, so make sure you use it wisely. And lastly, don't simply pause all your ETAs once you upload your new RSA. It is always recommended to keep old ads enabled at least until your new ads start having some history. That being said, don't forget that RSAs are still in Beta. Which probably makes it the longest product in Beta ever. This is comforting to know, as we can rest assured that Google puts out everything on the line and will for sure come out from the testing phase stronger than any other ad type.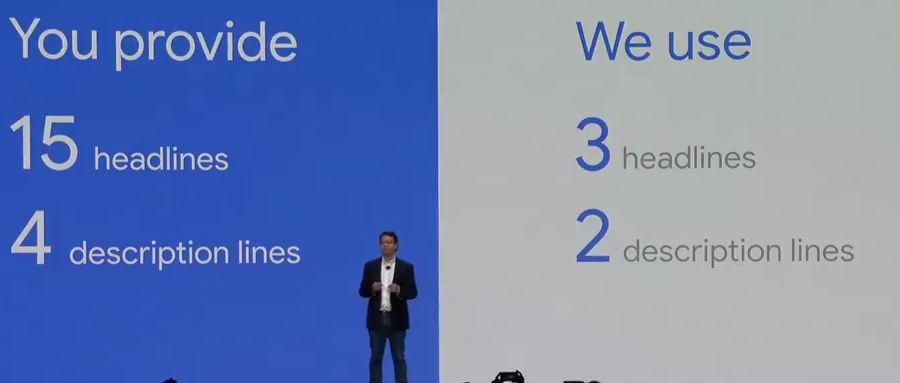 ---
What to Expect in 2022
---
To conclude, next year looks promising! As a result of all the recent updates, we already see big improvements in KPIs for both RSA and Automated Bidding Strategies. That being said, Google will most likely continue serving us new machine learning initiatives to better  match potential customers to the best product or service. This potentially means better time management and more effective ad formats that will provide us more time to dedicate to other important aspects of Google Ads. You may have more or less manual work depending on your accounts' size, but once you manage to implement everything, you should be able to see the improvement in your ROAS in a short period of time.
After all, if you're having trouble managing your paid efforts, feel free to reach out, and our team of specialists will help you meet your marketing objectives. 
You may also like the following...
Got any questions?
Write directly to us via the form below
.