"93% of consumers used the internet to find a local business in the last year, with 34% searching every day"
If your business is a part of the beauty industry you must have held your breath in the past few months, wondering how Google's newest feature will reflect on your sales. For all of you who missed this news, it turns out that Google enrolled a "Virtually Try-on Makeup" right before Christmas when shopping in the USA. 
The reason behind this is the increase in online shopping throughout the year. It's been estimated that over 73% of US shoppers will buy their Christmas gifts online, and since all of us missed in-store experience, Google brought it to us in an innovative way. They partnered with L'Oreal, Mac Cosmetics, and a couple of others so that shoppers could visualize makeup looks and "try-on products". We've tried it, and we like it. But what does that mean for smaller brands that didn't have the access to it?
It is estimated that the beauty industry will reach or exceed $800 billion by 2025, as stated in Forbes. There's even a proposed hypothesis that once the times get tough, shoppers will most likely continue investing in little luxuries, such as expensive cosmetics and makeup, only to indulge themselves and have that emotional lift. Meaning, if you are a small to medium beauty brand, now is the time to start investing smartly in building your audience. 
How does the Try It On feature look like? 
There are 2 video announcements made by Google that intrigued us to follow the development closely. You can even change the color of your hair and try on prepared looks through which they are selling the entire assortment of products. We came to a couple of conclusions:
Surprisingly, it wasn't as easy to find this feature as we were hoping

It was extremely engaging and you would spend a lot of time trying on different products

CR must be really high, as you would have the option to buy the product on the spot. Nonetheless, you can buy the entire selection you try on

An average shopper would most likely give all the personal information to get their selected products sent to the email. Which you, naturally, can buy from your inbox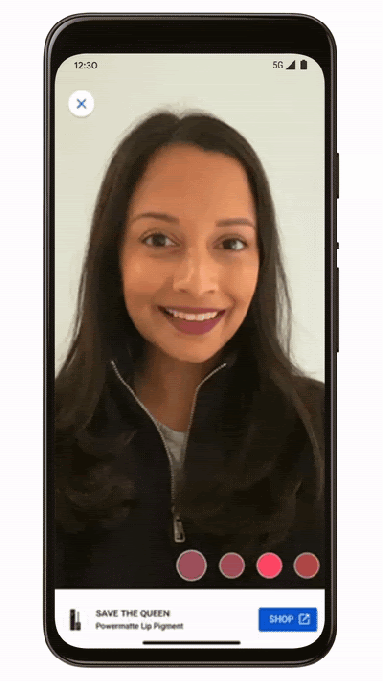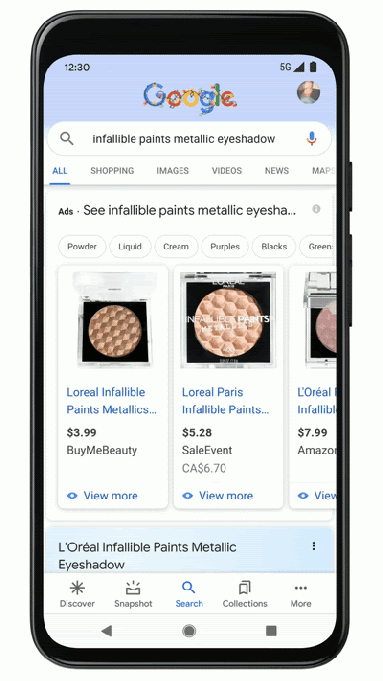 Beauty Trends you should be aware of
If we take into consideration the behavior of the average US customer, we can draw a couple of conclusions that can help you lift your business. 
1. Beauty customers show strong brand loyalty
Brand loyalty is more visible here than in any other industry. This should be enough for you to work on creating an effective loyalty program and build strong brand awareness. Sharing a couple of examples we've had success with:
Tell your story and let your customers know you

Introduce a reward program 

Build and nurture your community

Keep your followers engaged

Have your customers crowd-source new products

Work on the Social proof

Reward loyalty
2. Highlight your products best features through Google Ads
Once you start advertising on Google, you have the chance to present your product's best features through long descriptions. 
Sharing a free tip – We've seen a significant increase in CTR and CR on ads that highlight the use of natural, healthy, and clean ingredients. If you are lucky to promote a sustainable product, that is a win-win.
3. Try-on makeup through the app may not be sufficient
Getting back to the topic from the beginning of our text – if you haven't implemented a Try-On feature on your website, your sales should be safe for now. According to the Ipsos research, 41% of beauty customers said they wouldn't buy a product they only tried virtually. 
We wanted to see first hand what's all the fuss about and tried it ourselves. Sharing the results with you. Even though the hair coloring options looked "real" enough, the makeup look didn't seem natural at all.
The good news is, even with the percentage of people that prefer to test the product on their skin, you have other marketing strategies that can help you with Conversion Rates. For instance, by deciding to send free samples, you may create a huge lifetime value.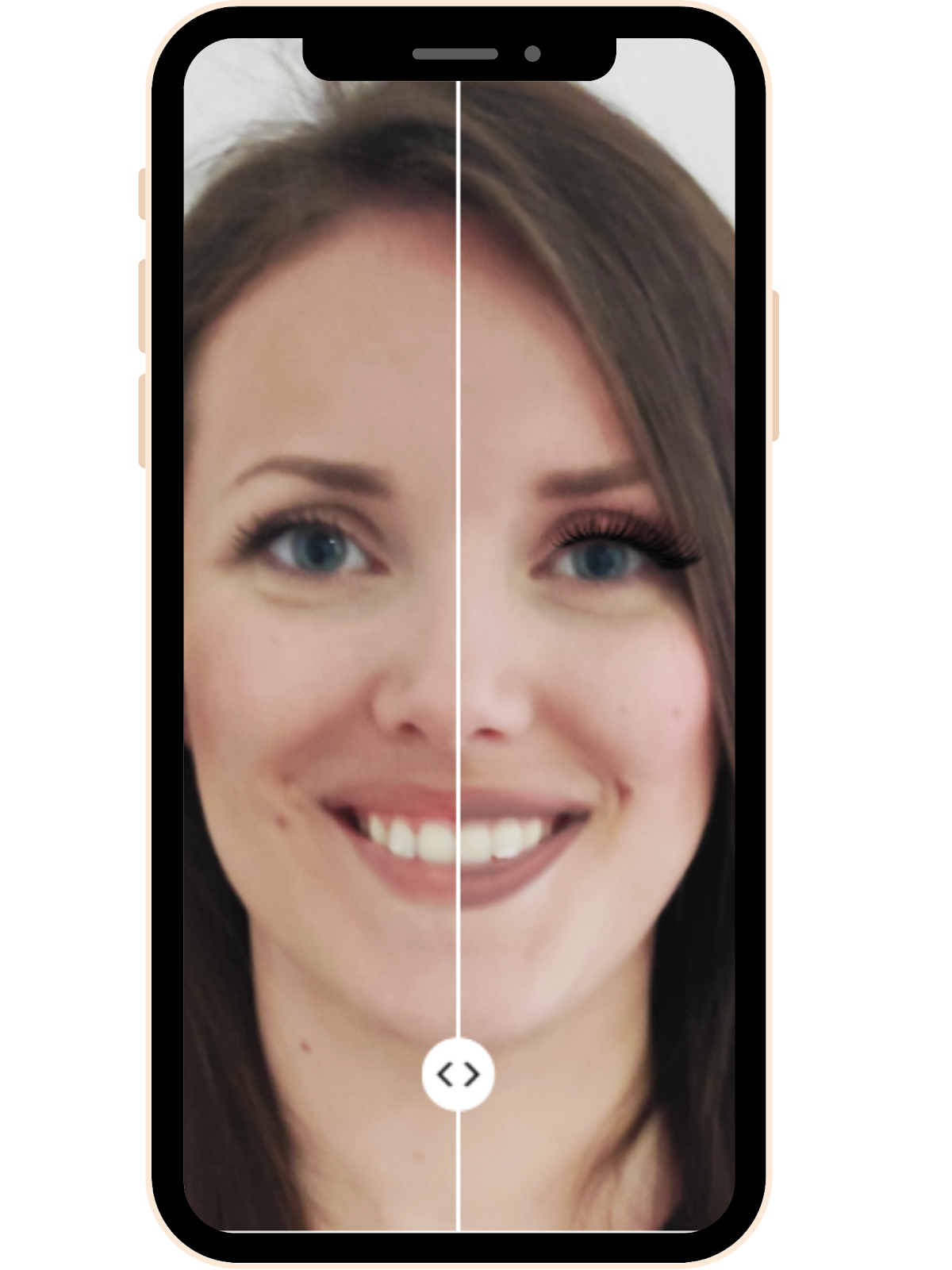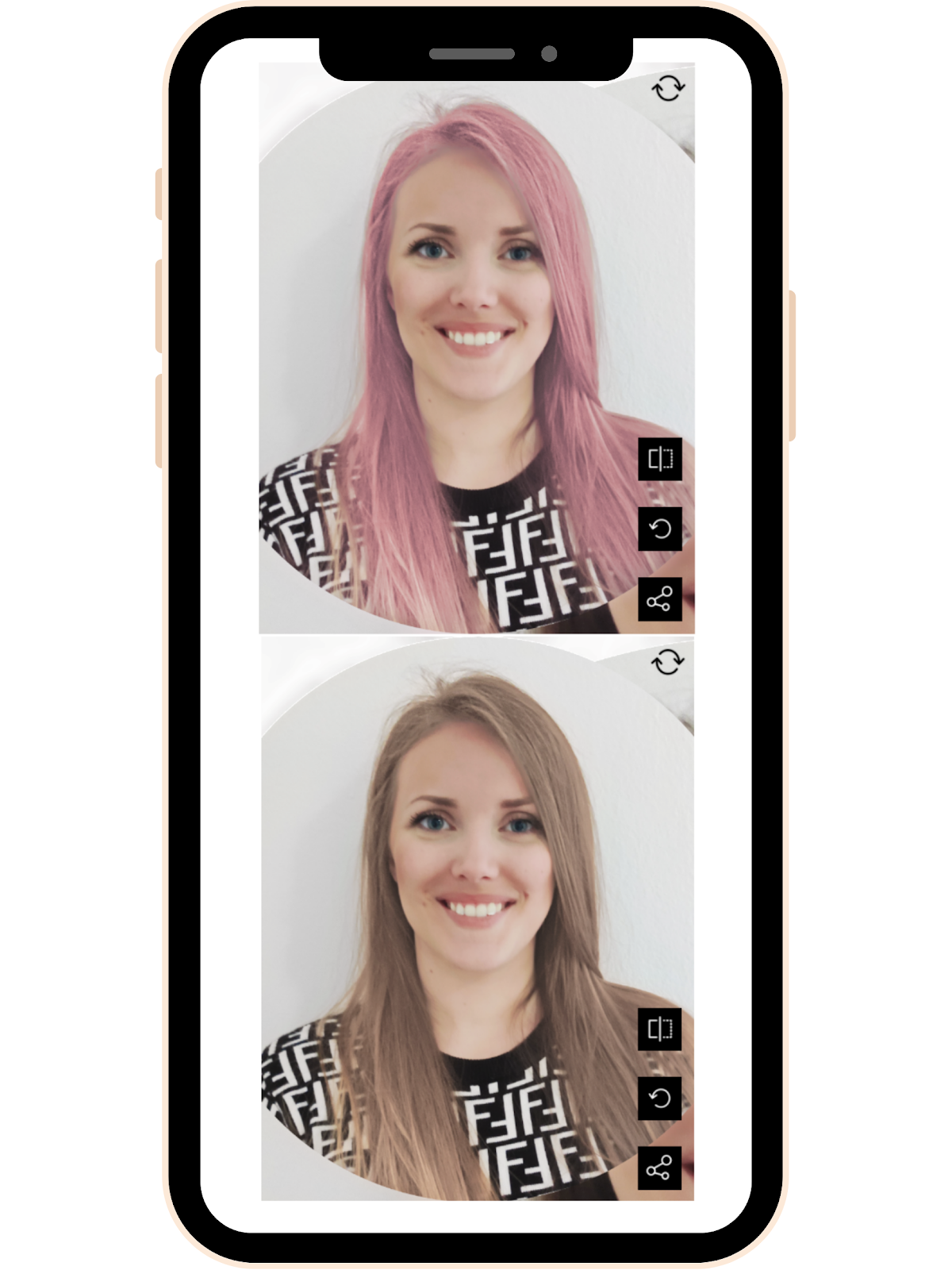 4. Reality check for Google Display and Video Ads
If you are using either Google Display or Video Ads, make sure to not exaggerate with photoshop. Upon A/B testing 2 ad copies – one with a realistic representation of a woman's age, and the other one using different filters – we saw higher CR on the realistic copy. So we suggest that you be consistent and build trust. 
5. Embrace different beauty standards throughout marketplaces
Be prepared to research your Buyer Persona and see what beauty features you need to highlight for a specific marketplace. Also, consider external factors. You may not sell as much heavy makeup, used for nightlife, during the Covid outbreak. On the other hand, clean and sustainable face creams and serums may see an uplift if targeted correctly.
Conclusion
After evaluating and experimenting with different approaches, we hope we've been able to approach a couple of important principles you need to stick to if you want to grow your business within the beauty industry. If you feel your business needs a thorough review, get in touch with us, and we will schedule a short call to discuss your opportunities.
Lastly, here are some interesting facts about the customer behavior from the survey conducted late last year:
87% of consumers read online reviews for local businesses in 2020 – up from 81% in 2019

31% of consumers say they read more reviews in 2020 because of Covid-19, while 34% read fewer

67% of consumers say they wouldn't use a business if reviews said it didn't have Covid-19 health and safety measures in place. You can read more about Covid-19 and its impact on eCommerce in our blog post.

The most important review factors: 1) Star rating, 2) Legitimacy, 3) Recency, 4) Sentiment, 5) Quantity

Only 48% of consumers would consider using a business with fewer than 4 stars

73% of consumers only pay attention to reviews written in the last month

72% of US consumers have written a review for a local business – a big jump from 66% in 2019

When writing a review, 20% of consumers expect to receive a response within one day

Consumers are most likely to look at Google My Business for local business reviews, but trust the Better Business Bureau the month.
Want to work with us?

Let's talk

.